See my painting "MoMA Reflections"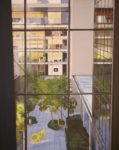 at the Chicago Alliance of Visual Artists' new show, Architectural Elements, at the Bridgeport Art Center's 3rd floor Gallery through January 30, 2018.   Fifty-four works in various media by 32 artists are on display in the beautiful 3rd floor gallery at the Center. Refreshments and musical entertainment will be provided.
Gallery Reception and Awards:  Friday, January 19, 2018 from 6 – 9 pm
Bridgeport Art Center   1200 W.  35th Street
Enter on east side, off of Racine Ave/34th Place.  Free parking in north lot.
Hours:  Monday – Saturday 8am – 6 pm; Sunday, 8:00am – 12:00 pm
Open until 10 pm on Third Fridays/Open Studios.    Tel: 773-843-9000