Meet the Artist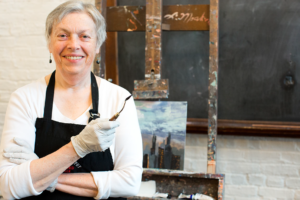 Karen's  journey as a painter began as a young child in Chicago when her art teacher in elementary school took her class into the neighborhood.  Sketching the nearby factory was her first experience of seeing line and light.  It shaped her interest in the urban scene.  Other interests dominated her attention in mid-life.  But in retirement, she decided to become serious about painting.  Since 2006, Karen has taken workshops in Chicago, across the U.S., and in Provence, Tuscany, and Ireland.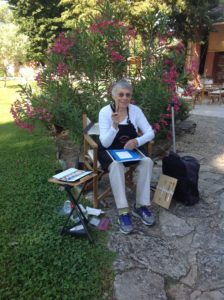 Her landscapes reveal her sense of awe at nature's creations–its mountains, canyons, rivers, lakes, skies and clouds.  Her cityscapes focus on vanishing water towers, bridges, old iron railings, window reflections, fog, rain storms, cumulonimbus clouds, fading light, and distinctive architecture.  She paints what touches her heart or simmers in her imagination until it demands expression.  Currently, she is focused on becoming more painterly.  Since 2013, Karen has taken several plein air workshops with the goal of  freeing herself from a reliance on photographs.
Every Wednesday she can be found at the Ponce Studio in the Ravenswood corridor of Chicago.  Here with a group of other artists whose different paths all led to Ann Ponce, she continues to practice the art of seeing.
Karen's oils and watercolors have been shown locally at the Old Town Art Center, the North Shore Art League and various other venues.  She is a member of the Chicago Alliance of Visual Artists, the National Oil & Acrylic Painters' Society, the Oil Painters of America, and American Women Artists.
The artists with whom she has studied inspire her continued pursuit:   oil painters Kathleen Newman,  Didier Nolet,  Joyce Ortner,  Ann Ponce, and watercolorists Ingrid Albrecht, Bill Bartelt, and Evelyn Dunphy.  Some of these artists–Dunphy, Newman, Nolet, and Ortner–share a deep appreciation for the wonders of the natural world and the power of imagination. Others–Albrecht and Bartelt— find the rich textures of the urban scene inform their work.  Still others–Ponce–see the face and body as a human landscape.  All practice seeing and re-creating the radiance of life for their own and others enjoyment.  Their work along with that of Emily Carr, Lockwood deForest, Edward Hopper, and Andrew Wyeth influences her work.