Watercolor Works April 8th (6-9pm) and April 10th (1-5pm)
"Fog Creeps In" will be among six of my framed watercolors on display; thirteen other artists with varying styles will also be showing their work at Bill Bartelt's Studio:  4659 N. Ravenswood at Leland Ave.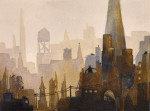 New unframed paintings from my recent trip to Palm Springs, CA will also be available for purchase.
PhotoArtWork Gallery Solo Show Opening Reception, Friday June 4  SAVE THE DATE
Evanston Made is a month long celebration of the arts featuring artist studio tours on June 4th from 1 – 5 pm.  My solo show opening at PhotoArtWork will debut the same day.  The exhibit will feature both watercolor and oil paintings including "MoMA Views."  Browse artists' galleries and then join me for stimulating discussion about my artistic process.  More details about the show will be posted in late May.